Pembagian Beban Trafik pada Cluster Server
Keywords:
beban trafik, cluster server, Nanopi-2
Abstract
Permasalahan yang ada pada server adalah banyaknya user yang mengakses dalam waktu bersamaan. Untuk mengatasinya dapat digunakan konsep cluster server. Metode yang digunakan dalam artikel ini adalah membangun 3 cluster server web  dan 1 load balancer dari 4 buah Nanopi2 serta  mengimplementasikan algoritma round robin dalam pengaturan kerjanya. Hasil yang diperoleh adalah bahwa terjadi pembagian beban trafik yang berimbang di antara 3 server dengan rata-rata pada saat server menerima request dari client adalah 33.57%, 32.64%, dan 33.8%, serta rata-rata pada saat server memberikan response adalah 33.47%, 34.14%, dan 35.35%
References
Bourke, Tony, "Server Load Balancing", O'Reilly & Associates, Inc, Amerika Serikat, 2001
Putra, RH, "Implementasi Cluster Server pada Raspberry Pi dengan Metode Load Balancing", Jurnal Edukasi dan Penelitian Informatika, Vol. 2 No.1, 2016, eISSN :2548-9364.
Mados, Branislav, "Downsizing of Web Server Design Using RaspberryPi 3 Single Board Computer Platform", 14th International Scientific Conference on Informatics, 2017, Slovakia. IEEE publisher. DOI: 10.1109/INFORMATICS.2017.8327253 .
Maduranga, MWP, "Comparison of Load Balancing Algorithm on Raspberi Pi Clustered Embedded Web Server", 20 th IEEE International Computer Science and Engoneering Conference, 2016.
Rahmatulloh, Alam, "Implementasi Load Balancing Server Menggunakan HAProxy dan Sinkronisasi File pada Sistem Informasi Akademik Universitas Sriwijaya", Jurnal Teknologi dan Sistem Informasi Vol 03 No 02, 2017.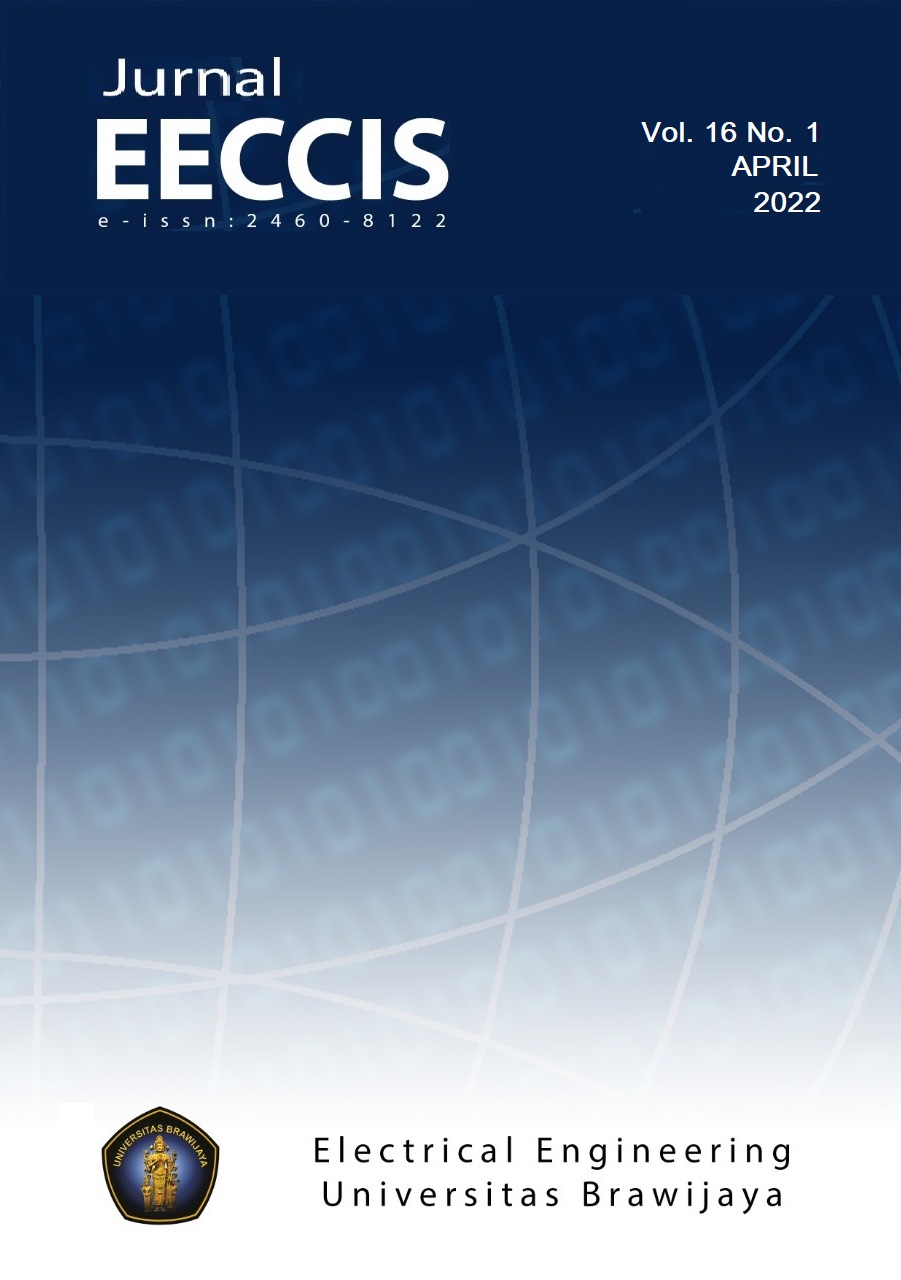 Downloads
How to Cite
[1]
M. Kusumawardani, N. Suharto, and M. N. Zakaria, "Pembagian Beban Trafik pada Cluster Server", jeeccis, vol. 16, no. 1, pp. pp 15–19, Aug. 2022.
License
Copyright (c) 2022 Jurnal EECCIS
This work is licensed under a Creative Commons Attribution 4.0 International License.